Welcome to Kokku – a creative digital agency from the Nordics.
We help companies and organizations thrive and grow in today's digital world, with a mix of brand and digital agency services.
Our Process – How we make the magic happen.
We believe that focusing on essential, value-creating elements in each project delivers the best results. This is also at the root of our smooth process.
All our projects from Branding to Websites begin with a careful planning stage. We clarify the goals of the project, take a deep dive into your existing brand and plan the required technical solutions for your Website.
Depending on the project scope, some of the typical deliveries in this stage include:
Core brand messaging and tone of voice

Initial direction for visual identity

Technical Specifications for Website

Technical Features Mapping for Website

Sitemap
Through iteration, we find the best direction for your brand visuals and how to implement it on your website and e-commerce solutions. Together, we do final clarifications for project direction and steer towards the final look and feel of your new brand or website.
Depending on the project scope, some of the typical deliveries in this stage include:
Finalizing brand identity

Website wireframes

Implementing brand identity into the website

Planning website animations

Preparing visual assets (images, illustrations, etc.)
After designs are approved, we move to building of your website. Once your new digital product has taken shape, we sit down together with you to present and review it.
Depending on the project scope, some of the typical deliveries in this stage include:
Website training

Website integrations

Website tweaks list

Content creation guide

Content importing to website starts
Ready, set, go! At this point, your brand or website is ready to be delivered to the world. In this final stage, we make sure that your audience will be delighted to experience your new brand and digital service.
This is what happens:
Final brand guidelines

Final content check-up

Final website visual adjustments

Analytics setup

Website launch preparations
Our values – Our DNA.
We believe that crafting purposeful brands and technically robust digital experiences for companies requires:
Curiosity
Our industry and ways of working move forward at a rapid pace. Luckily, we are a curious-minded bunch! Our team enjoys finding a fresh approach to common things and staying in tune with modern solutions.
Creativity
Creativity is all about seeing familiar things from a new perspective. Connecting things that don't seem clear at first, but in the end deliver fresh, innovative solutions. We strive to reach beyond the ordinary, by challenging each other.
Genuineness
Authenticity and sincerity are at the heart of our team. We keep it real together as colleagues and with our clients.
Collaboration
Best results are achieved when people with different strengths come together. This combined with great communication is what pushes us forward together as individuals and as a team.
Our team – a humble bunch of warm-hearted professionals.
Our T-shaped team is a mix of creative, communications and digital industry professionals, with experience working with a wide variety of different industries.
Jonatan Aurum
Your contact person
Jussi Salolainen
Creative Director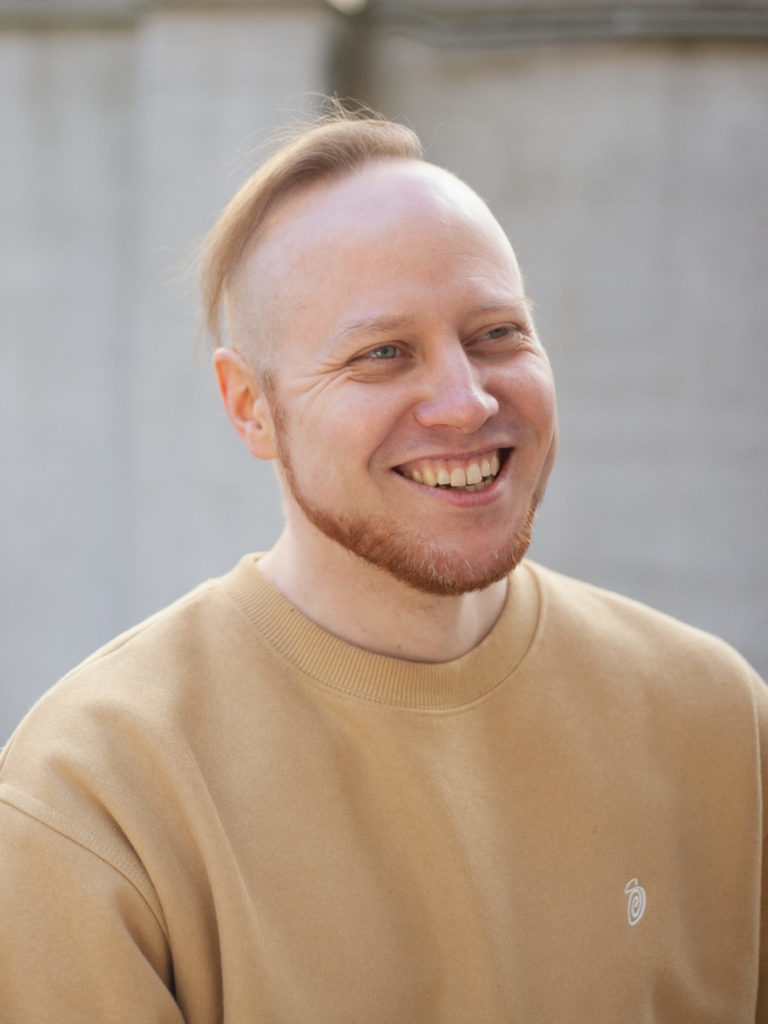 Other Kokku members
Developers & Designers